Even my most casual readers must have noticed by now that for a blog titled "An American In Hamburg", I wasn't talking about Hamburg very much -- reason being, of course, that we moved back to the States several months ago and I now have entirely new sources of daily tedium to fill up my blog with.

So, it was obvious that I had to change this blog's name, and I finally got around to doing it. The inspiration for the new name came from a lunchtime conversation I had with some of my German co-workers a couple of years ago. I mentioned that I grew up in Southern California, and it quickly became apparent that they thought my growing up must have been a combination of every teen movie ever made -- lots of sunshine, driving around with my friends in convertibles, trips to the beach every weekend for surfing and a giant party around a bonfire. (And, of course, when we weren't partying or driving around in our flashy cars, we spent the rest of our time getting ready for Prom.)

And now I'm an adult, living in Orange County with my own house just a few miles from where I grew up -- living just a few miles from Disneyland! Just a short drive to the beach! Living where it's always sunny and 72! -- shouldn't I expect my everyday life to be just as fantastically wonderful?

If Fox's The OC ever makes it to German TV, then I'll be in real trouble ... (oops, looks like it's already too late -- ProSieben will start showing episodes of "O.C., California" on January 26th!)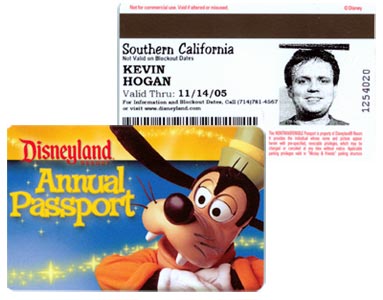 For those who aren't familiar with them, an explanation of the items in my new banner, from left to right:
Disneyland -- the Monorail in front of the Matterhorn Bobsleds
An old orange crate label -- memory of a day gone by. Now Orange County's main crop is housing tracts, and any open groves or fields are either small, threatened, and vanishing, or kept around for historical sentimentality.
The beach; this one is Newport Beach, I think.
An entrance to South Coast Plaza. It's not the biggest mall in America -- although it is awfully big -- but it is the highest-grossing mall per square foot! This is where giant packs of Japanese tourists and the local rich come to dispose of their disposable income, if they're not already doing it at Fashion Island.
An old map of Orange County
The freeway; this particular picture is on Interstate 5, approaching the "Orange Crush" interchange where I-5 meets state highways 22 & 57.
Thank you to all of those who have been reading my blog so far -- I hope that you stick around as I continue under my new identity!