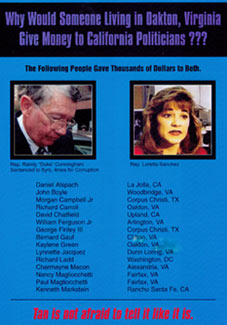 Now that he's once again started trashing up our neighborhood by planting a profusion of campaign signs well in advance of any other political candidate, I think it's time to revisit our household's least favorite political wannabe of the season, Tan Nguyen. (See last installment here, including insightful comment from a Tan supporter.)

Recently, Nguyen had a fit, sending Loretta Sanchez (our current Congresswoman and his Democratic opponent) a letter stating that she was misrepresenting his position on illegal immigration: "As there are many issues which we legitimately disagree on, I am sure it is not necessary to misstate each others positions." With a letter like that, Tan is all about probity, straightforwardness, and telling the truth, right?

While I was at Philmont, the Nguyen campaign sent us the postcard to the left (click the image for a larger version). With the header "Why Would Someone Living in Oakton, Virginia Give Money to California Politicians???", it lists fifteen of Loretta Sanchez's campaign donors — with the added twist that these people also gave money to Rep. Randy "Duke" Cunningham (who, the postcard helpfully reminds us, was "Sentenced to 8 yrs, 4 mos for Corruption"). OMG, they have the same donors!!!1!!!!

So this means that Loretta is as crooked as a snake, right? Well, look at the FEC records for both Sanchez and Cunningham — she has 5,308 individual contributors on record, and he has 1,735. Finding fifteen names that match out of a pool of seven thousand is more a triumph of mail merge than anything else. Is it all that shocking that out-of-state donors with business interests in Southern California might give money to more than one Southern Californian politician? (And no, none of these people made the illegal donations that sent Cunningham to jail. Search "(donor name) Cunningham" on Google if you don't believe me.)

But Tan Nguyen must have lots of local donors if he wants to make a big deal out of this, right? I'll bet that this "telling it like it is" stuff must be getting folks in the 47th Congressional District all fired up. Let's look at his FEC reports. Hmmm ... it seems like he's got one donor who actually lives in our district. And Tan can probably count himself as his largest non-local contributor, since as recently as January 2005 he was filing papers with the FEC that listed his mailing address as being in San Diego County (this while he was wrapping up a campaign where he ran as a Democrat for a different Orange County congressional seat). Think he'll stick around and remain our neighbor after he loses his run for the 47th?

Tan Nguyen — telling it like it is! Or alternatively, as he'd like you to believe that it might be!