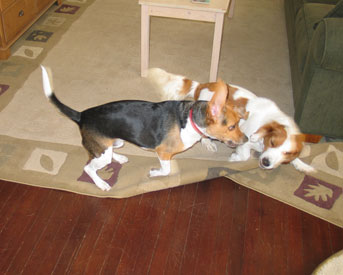 This weekend Digory met his kind of woman — Penny, who was his age, his size, and always up for rough play like wrestling and tug-of-war. Unfortunately, she was only staying the night; we were just one stop on a trip from Texas to Oregon.

Dig spent yesterday kind of mooning around, sniffing forlornly where Penny had been, but he seems to be back to normal today. (Houseguests are ephemeral, but potentially deadly mailmen who are a threat to our house and who need to be barked at are eternal!)

Penny was such a sweetheart, and she and Digory were so cute playing together, that we took a lot of pictures and put them here.