AKIMA!
Here it is--a picture of the long-awaited Akima and her humans Marc and Wendy! Isn't she a pretty girl? What a sweet face! Akima is 2.5 years old, 92 pounds, and adopted from Safe Harbor Lab Rescue in Denver. More about Marc, Wendy, and Akima below.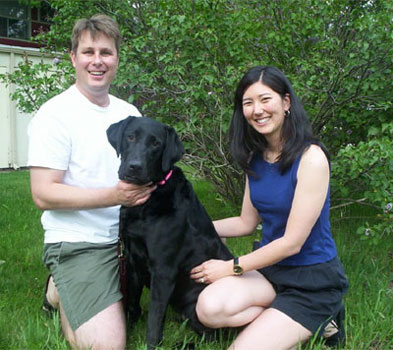 From Safe Harbor's Bio:
Akima was adopted today by Marc and Wendy Kormori Stager. It's easy to see they really love this big, gentle, shiny, beautiful girl and the feeling is mutual. Wendy used to raise puppies for Guide Dogs for the Blind and is experienced with training. Akima is already enrolled in obedience class and is an eager attentive learner who is doing very well with her house manners. Akima has lots of walks and ball playing to look forward to as wells as a fishing trip or two with Marc!
Scout is proud to have played a part in Akima's adoption. Wendy has always been a dog lover and has had dogs in her life for a long time, but Marc had some negative experiences with badly behaved and annoying dogs and wasn't sure he wanted to adopt a dog. Back in San Jose where we met them, we started bringing Scout over to their house. Wendy does this amazing ear scratchie that no one else can duplicate, and Scout with her friendly manner started to win over Marc, showing him that dogs aren't always barking and annoying. Marc and Wendy dogsat Scout several times before they moved to Denver--including once when Wendy was gone for several days and Scout needed daily medicine, which Marc delivered like a pro. Branching out from Scout, Marc and Wendy got to know many other friendly dogs and spent a lot of time playing with them and dogsitting. Thanks to Scout and those other good dogs, Marc and Wendy came to agree that they wanted a dog in their lives. There were a few obstacles to be overcome, but after working out the details, Marc and Wendy were ready to open their lives to the unconditional love that is a dog. And now they finally have Akima! Scout is SO thrilled that Uncle Marc and Auntie Wendy have their own canine companion (even if she's a little jealous that Akima gets to have all of the special Auntie Wendy Ear Scratchies that she wants), and Kevin and I couldn't be happier for them. Welcome Akima and HOORAY FOR DOGS!
Posted by Shelby at May 9, 2004 09:58 PM