A Sly Dog and Gay Pride
Boy, I've really been neglecting my blog lately. Er, sorry about that.
This weekend was full on Saturday and rather empty on Sunday. Saturday was the centerpiece of EuroPride 2004--Europe's biggest gay pride festival which happened to be held in Hamburg this year. There was a giant parade on Saturday as well as a whole collection of booths and things you'd normally find at a festival here. The parade was your standard gay pride parade--elaborately dressed queens, dancing condoms, floats with booming techno and muscular men in sailor outfits. There were, however, a few things you'll NEVER see in the US. For example, the dancing condoms were sponsored by HVV--Hamburg's public transportation system. Somehow I just don't see RTD representing themselves with people in condom costumes emblazened with their logo. But here in Hamburg--anything goes. The other thing that caught our attention were the floats sponsored by the two major political parties as well as other smaller parties. Each float was trying to outdo the other in an effort to win the gay vote (I guess)--each trying to say "they may be gay friendly, but we're MORE gay friendly!" That was a nice, healthy change from America, let me tell you. Read Kevin's report on the day, and don't miss Dave's take on the event. Dave got some good pictures including the dancing condoms.
On Kevin's page you won't be able to resist the highlight of Scout's weekend, the Wonder Bone. This is her second Wonder Bone and it's one of the best dog treats we've ever purchased. The outer shell is a hard dental-type bone, and once you crack it open (if you're Scout, that would be like 2 minutes later) there's a surprise inside. The first time she got some meat sticks, but the second time she opened and scarfed so quickly we didn't see what was inside at all. Anyway, Kevin took some really cute pictures of her, especially this one where she being sly.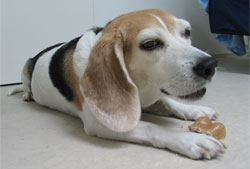 Posted by Shelby at June 14, 2004 05:39 PM