Family Reunion, Saturday July 23rd
About a month ago my cousins proposed having a BBQ for some family in the Southern California area. We figured it was going to be a smallish affair--the adults and kids (who are also adults) and the grandkids--grilling up some tri-tip and hanging out.
And then it went nuts. When Saturday rolled around, 3 folks came from Vegas, bringing Uncle Norb, who is in his 80s and is especially close to my grandfather, who is now 92. Then the "Mystery Guests" arrived--3 relatives from Arizona whose arrival was a complete surprise to everyone.
The little BBQ turned into a family reunion of sorts--all 29 (or so) of us. It was so much fun! Many of the relatives I hadn't seen since my wedding (3.5 years ago) and it was really wonderful to have such a great get-together. This pictures tells it all, I think: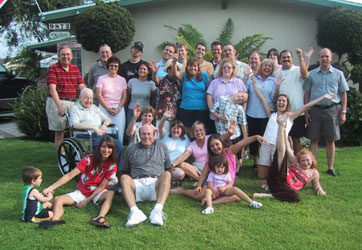 Posted by Shelby at July 26, 2005 11:21 AM