It Makes Driving in Traffic Fun...Almost
Yesterday I had the joy of taking the Prius to Santa Monica. It was so fun to drive! I loved the voice navigation system except at the end where it led me astray. I later realized that I'd entered the wrong destination, so I can't fault the navigation system for that. It did take me where I said I wanted to go. Maybe one day it will just read our minds. I did shut it off on my way home. I wanted to take an alternative route that I've figured out on my own. Instead of taking the 10 to the 5 all the way down, I prefer the 10 to a brief stint on the 5 to the 710 South to the 105 East to the 605 South to the 91 East--it's actually much easier than it sounds. It's really like stair stepping down from freeway to freeway. Anyway, I wondered if I insisted on taking those freeways if the navigation system would eventually catch up with me and figure out my new route, but no matter how many times I hit the detour button, it never figured out what I wanted it to. Again with the mind reading. So I shut if off in favor of this screen: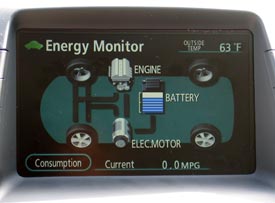 This screen tells you where the energy is coming from. While sitting in traffic it was like a game to see how far I could go solely on electric power. And I felt triumphant every time I knew I wasn't burning any gas. It's addicting, I tell you!
Posted by Shelby at February 17, 2006 04:15 PM