Fishie, Part the Second
It's Fishie Time again! I have to warn you, it's going to be Fishie Time for a while--we're devoting 6 weeks to sea life (4 left to go). Yesterday I finished my collage fish. I collaged him entirely out of pictures of hair--sounds weird but it turned out really cool I think. His name is, predictably, Harry. Click on his picture below to enlarge it. As for Fish #1, well I want to thank everyone for your great suggestions, but after careful consideration, I determined that he didn't want to be called anything but "My Fish." Funny that. Also, there's a secret in the picture. Can you find it? Click on the extended entry below to find the answer.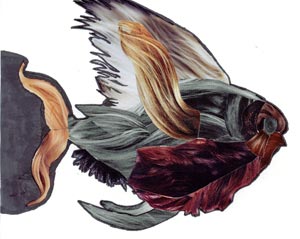 All of the pictures are of human hair except the large fin on top. That one's dog hair.
Posted by Shelby at March 8, 2006 09:46 AM