Grandpa Update
Good morning everyone. Thank you so much for your prayers and good thoughts. They really mean a lot to us.
As far as I know, Grandpa is still resting but fading this morning (I haven't gotten a call but I don't know if that's because he hasn't passed yet or if my parents are generously allowing me to sleep in). A little update on what's been up the last day or so.
Tuesday evening Kevin and I went over to the hospital in Torrance. Grandpa was sleeping, at times fitfully, but didn't show any outward signs of being aware that we were there. We stayed for a little while and then grabbed some dinner for the family on our way back to my parent's, where we stayed a little while longer. Wednesday morning we still hadn't gotten the call, so I headed to my ICD appointment (good news--everything's just ducky!) and then took a nap before heading up to Torrance again. Once again, Grandpa was sleeping, a bit more peacefully but at times seeming a bit restless. My dad was there and Brad had been there earlier. Dad and I sat with Grandpa for another couple of hours.
In the meantime, the Palliative Care Nurse came to speak with us. She was extremely nice. She's an RN and has additional training in palliative care for patients and support for families. She was there to explain our options and a little bit more about what to expect as far as where Grandpa was going to be. Luckily Dad, Aunt Sharon, and Grandpa had discussed a long time ago what they wanted when this time came--no artificial means (like a ventilator), no treatments that merely prolonged life but offered zero actual benefit (like dialysis), and a comfortable and pain-free death. She also let us know that Grandpa would be moved to his own room and offered to call a priest for us to administer Grandpa's last rites. Grandpa would also be placed on a constant morphine drip to keep him continuously comfortable, and although we wouldn't be able to predict the time of death, she said it usually occurs within 48-72 hours.
Kevin and Mom then arrived and the three of us headed over to the old house, which is being renovated. By "renovated" I mean "Completely torn down and replaced except for a few walls left standing to get past tax codes." It was pretty crazy. Everything seemed so small! We then headed back over to Mom and Dad's new house and again had dinner and hung out for a while.
Dad went back to the hospital after dinner and returned very late. He said that Grandpa had been moved to his own room and the priest had stopped by. He said that Grandpa had received his morphine drip and seemed to have started declining more rapidly than he had over the course of the last 2 days. Again, I haven't spoken to them yet this morning, and of course there's no way to tell, but it sounded like within 48 hours might be an accurate prediction.
Thank you again for all of your prayers and support. Here's a picture from this past Christmas. Again, click for a larger image.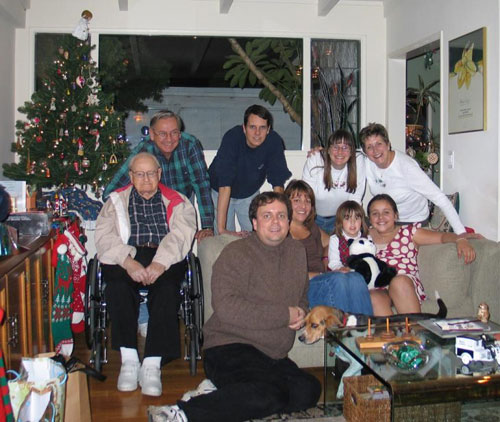 Posted by Shelby at August 16, 2007 09:41 AM