When Good Cakes Go Bad
A friend I know online had a little bit of trouble getting a birthday cake for her husband. Here's the story in her own words:
I'm speechless. I ordered a cake for my Hubby for his Birthday at Safeway. I went to get it and the guy couldn't find it. He got one off the shelf and said he would write on it for me. He hands me the cake and says that it is free because he had a little trouble with the "K". I was speechless. The cake is the most horrible thing I've ever seen. I haven't a clue what to do so I just say Thanks. Then I decide that I guess that I'll just get some cream cheese and powdered sugar and make my own frosting and scrape the stuff off and refrost it myself. Then the store manager asks if he can help me. I show him the cake and he starts laughing that it is the ugliest thing he has ever seen. So he goes to the back and does another one himself. It looks better still a little strange but better. So now I have 2 free cakes. There are only 3 of us eating it. Then going thru check out I have to explain to everyone why they are free. They are all laughing so hard that they have to go outside. One says it looks like Christmas gone bad.
Click on the extended entry for the cake.
Oh my: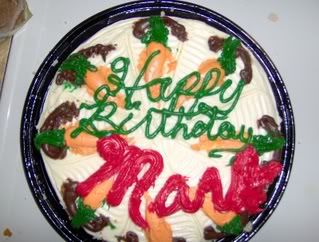 and the replacement:



Happy Birthday Marfthphethfhh!
Posted by Shelby at September 1, 2007 12:55 PM