Another glimpse at 12 weeks, 2 days
We spent the past extended weekend in the Bay Area visiting friends with their babies--5 friends with 5 babies ranging in age from 6-21 months. The cuteness was overwhelming. Pictures to come.
This morning was our first trimester ultrasound. Biff or Buffy actually looks like a baby now, or like the alien babies that ultrasound babies look like, as opposed to a bean. Is that a Rosiak chin? The famous Hogan Head? Here's Biff or Buffy (no word on the sex yet--we won't find out until our next ultrasound on July 24th) on his or her back. There's a hand in the air.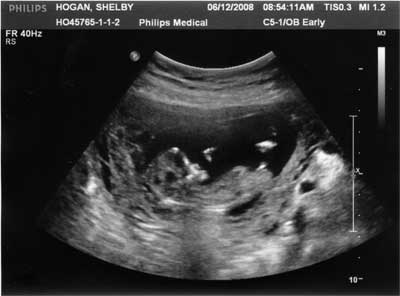 (Click for a larger image)
He or she then decided to do a front flip and curl up in a ball--here he/she is face down. Is that an acrobat? An Olympic diver?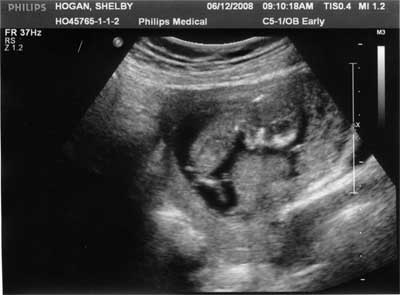 (Click for a larger image)
Posted by Shelby at June 12, 2008 08:08 PM