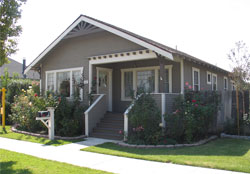 Our house had its inspection yesterday, and we're pleased to say that it passed. Of course, we took some pictures.

The home inspector was practically gushing about what great shape the house was in, particularly considering its age. Whoever rehabbed the house when it was moved from its original location was very thorough: it has a new foundation, new plumbing, new wiring, new heating and air-conditioning, and is fully insulated in the attic and crawlspace. The only items that gave him pause were the (blessedly few) do-it-yourself improvisations that the homeowners made -- the most alarming (harking back to the "cowboy electricians" entry) being an electrical outlet mounted just above the spa, wired up with lampcord spliced into the supply for the jacuzzi motor. Fortunately, that'll be easy to take out ...

Our main item of concern was the foundation; our putative homeowner's insurace company required us to show proof that the house was earthquake-bolted down to the foundation before they would issue us coverage. Fortunately, the house was indeed bolted and strapped, and shear walls had been added to the foundation.

Another reassuring thing was that the realtor's sign in front of the house had a big "SOLD" sign tacked onto it, and the current owners were visibly in the process of moving out -- unlike the last inspection, where not only was there no SOLD sign, but the owners hadn't even begun packing and still had stacks of their realtor's pamphlets and brochures laid out on the dining room table! Foreshadowing that I was oblivious to at the time ...

This deal, though, is marching solidly towards completion. There's still the chance for something to gum up the works -- there always is -- but it's looking more and more likely that we'll be calling this house home in just a couple of weeks!