April 16, 2005
It's Picture Time
Before I go, it's time to catch up on some pictures that I've had hanging around for a while. In this installment: a little Easter, a lot of Beagle. (Click on any picture for a larger version of that image.)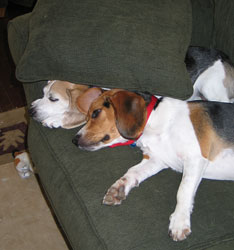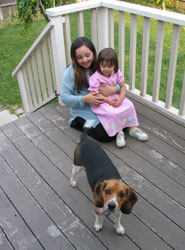 Digory was thrilled to have two playmates who were as excitable as he was.
Easter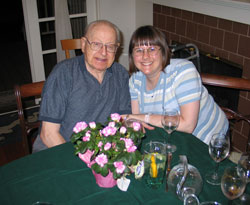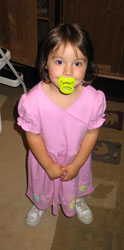 Shelby with Grandpa Rosiak, still going strong in his 90s.
Niece Seana, who is definitely a child of the digital age; after I took the picture, she wanted me to hand her the camera right away so that she could see it.
Not-Easter
Just in case any of you were still worried about whether Digory has settled in and now considers himself part of the family: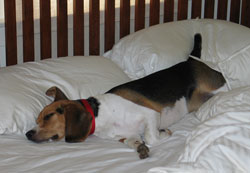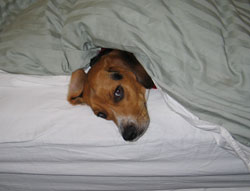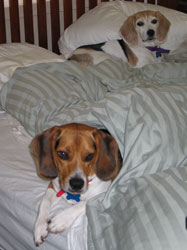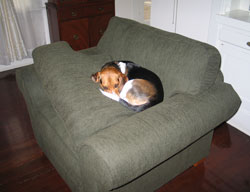 Why does the armchair have two cushions? The topmost cushion was moved from the couch, to prevent Digory from laying on top of it (like in
this picture
). Whereupon he moved from the couch to the armchair; he's determined to sleep on that particular cushion
no matter what
. You can't stop me!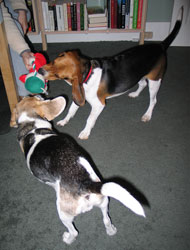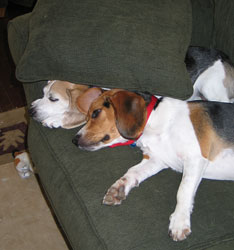 Posted by Kevin at April 16, 2005 12:03 PM

I'm overdosing on beagle cuteness... it just might make me want to get a second one. Almost.
Really, this is dangerous. You must stop.
Posted by: Annastazia at April 27, 2005 06:32 PM
THERE IS NO MERCY!!
Posted by: Kevin at May 2, 2005 09:45 AM
I just wanted 2 say how kool it was 2 see those beatiful pics. of more beagles b/c i just got one 4 my birthday and he is so spoiled and i named him Shiloh!!
Posted by: Destiny at August 3, 2005 01:38 PM
Hi....we love your beagle pictures.... We have to wonderful beagles and they look almost exactly like your two. Zoe, is brown and white, and 10 years old..Buddy, mostly black, and a little brown and white is 2. Our Zoe is mild and loves to eat, Buddy is rambunctious and loves to be hugged and petted. My husband and I were so happy to see your two and how close to ours they look. Aren't they wonderful? Thanks for posting these pictures. Judy
Posted by: Judy at September 10, 2005 07:04 PM
Get rid of the ugly people! The only preson who looked good was Granpa Rosiak!
Posted by: Kacey at September 17, 2005 02:51 PM