It Lives!
So, it's been a long time since my last entry. Maybe I shouldn't have inadvertently ended my blog with a tale about a stabbing two doors down from us; some of you out in Internetland may have been wondering if I'd become the victim of some kind of crime-and-ultraviolence ring...
But hey, look over here — cute dog picture!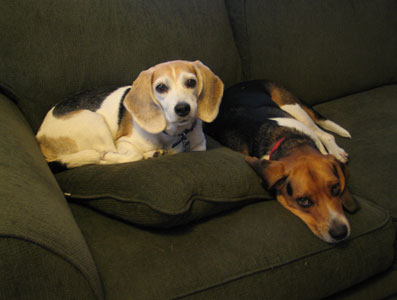 Since our last installment:
This past weekend was very Germanic. On Saturday, the Wine Exchange held their "Deutschland" tasting (all Rieslings, except for one Sylvaner) — for someone of my peculiar preferences, it was the tasting of the year! On Sunday, we went to Old World in Huntington Beach to see their Dachsund races and check out their collection of Teutonically-themed stores. The Dachsund races were just about the CUTEST THING EVER — earnest little microdogs scrabbling away to the end of the track, usually to jump into the arms of the person waiting for them with tails wagging about a million beats a minute because they knew that they were good dogs. Each racing Dachsund had a support crew of two people; one waited at the head of the track, holding the dog until the starting gate went up (and usually giving a little oomph to their dog's start with a healthy push on the release). The other person waited at the end of the track, cheering the dog on while 'baiting' it with an object of interest — waving a stuffed toy, a dog biscuit, or half a hot dog, or holding another Doxie pack member. One dog was baited with a shovel; as the on-your-mark for his race began, his person started scraping the shovel against the finish line, as if he were digging imaginary dirt. The sight of the shovel agitated the dog so much that the owner didn't need to carry his dog off the track after the race was done; he just walked away, holding the shovel about a foot off the ground, and the dog trotted right alongside, making little leaps into the air in an attempt to nip at the shovel blade. There's got to be some kind of story in that.

Besides the Dachsund races, Oktoberfest at Old World was in full swing — something we pretty much took a pass on, because how excited can you get over $8 beer? But we did walk through Old World's assortment of little shops; OW plays host to not one but two decently-stocked German delis. (While the foodstuffs were well-represented, I have to wonder at some of the other German-sourced products they had for sale; for example, one store was selling Schauma shampoo, which I remember as pretty much the cheapest stuff you could get. For a German to buy this would be much like an American expat getting all misty-eyed over the opportunity to buy Suave.) All in all, things turned out much better than our trip to Torrance's Alpine Village a couple of years ago.

I spent the week before that up in San Jose. My opinion of San Jose hasn't changed all that much since my last visit, but the restaurant/nightlife activity has picked up noticeably; maybe the eleventy-quadrillion dollars of tax money that they've spent in their quest to have a viable downtown won't be a total waste after all!
A few weekends ago, we went to the Santa Barbara County Vintners' Association's Celebration of Harvest. The Celebration is held each October in a big field out in the middle of nowhere; for a single ticket, you can spend the afternoon wandering amongst tables staffed by local vintners and restauranteurs, sampling their wares. Judging from the pamphlets I brought home with me, here in no particular order are the new-to-us wineries that we found particularly impressive: Westerly, Daniel Gehrs, Bedford Thompson, Babcock, Paige 23, Rusack, Alma Rosa, and Foley. (Lest some of you who read that list feel that we're leaving someone out, there are also lots of other wineries making good stuff that we already knew about; we didn't need to grab their pamphlets.) We bracketed the Celebration with tasting at wineries on Friday and Sunday, along with a dinner at The Hitching Post in Casmalia (the sister to the Buellton restaurant that was one of many Central Coast wine locales made famous in the movie Sideways).
In a development that has provided me with healthy amounts of schadenfreude, local hapless wannabe Congressman Tan Nguyen's campaign (see previous blog entries on Tan here and here) has totally imploded, thanks to his sending out a legally-questionable letter to 14,000 Democratic Latino voters in the 47th Congressional District in a ham-handed attempt at voter intimidation. Despite calls from the OC GOP to resign and a raid by state investigators on his office, Tan continues to maintain his innocence, declaring in a news conference that "there is no way in hell I am dropping out of the race". That same news conference also produced my very favorite Tan-ism to date:


"There is no crime committed, not a hate crime, and not even a love crime."

Why do I keep hearing the B-52s in my head? "Love crime, baby, love crime ..."

When news of the letters first emerged, the local Republican blogosphere, as represented by the folks at OCBlog, first blamed the letters on a sekrit Democrat conspiracy!!!1! to discredit the GOP. When Tan emerged as the culprit, it was still the Democrats' fault, as Tan wasn't a real Republican — don't you know that he switched parties just two years ago? (This despite their loving profile when he entered the fray a year ago.) And even if you accept Tan's Republicanism, you've still got to blame the Democrats, because they're the ones benefitting from the fact that Republicans look like dolts! Now, of course, it's time to move on — sigh ... can't we be more high-minded here? — and any Orange County Democrat who's still talking about Tan Nguyen (just over a week later, as an active investigation progresses) is a demagogue and a grandstander!

I don't know why I keep these people in my blogroll; they've turned into a slightly less cantankerous version of the cranky old men who write into the Orange County Register complaining about taxes, mass transit, and how flouridation is polluting our precious bodily fluids.



Posted by Kevin at October 28, 2006 01:16 AM