Dogsledding!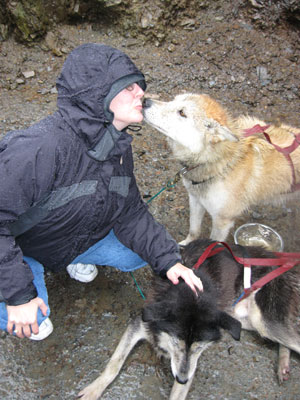 New! With pictures!
I'm going to narrate our trip out of order because I want to start with the Best Excursion Ever--the dog sled and musher's camp. This excursion was in Juneau, Alaska, on the coldest, rainiest day of our trip. We ended up getting lucky with our excursion--almost all of the other excursions were cancelled due to weather and there were lots of unhappy cruise passengers milling around the boat.
We headed out to a musher's camp in the middle of the woods somewhere. Once we got there, we realized why it was in the middle of the woods somewhere--the cacophony of barking. It was great. The mushers told us that barking is encouraged among the dogs--it gets them fired up and excited about running. Digory would have been in heaven! The dogs were probably the happiest pups I've ever seen. Coupled with their lavish diet and extraordinary amount of attention, I have to say that when I die, if I can't come back as a beagle in a cushy household like ours, I'd like to be a sled dog.
The dogs, we learned, were Alaskan Huskies, which is not actually a breed of dog. Rather, it's a category. These pups were real racing hounds--some of whom were training for the Iditarod and other long-distance races. As you will see in the slideshow gallery, the dogs look very little like the Siberian Huskies we see walking down our streets. These dogs are much smaller and scrawnier (believe it or not). They have a very thick undercoat of fur--so much so that even in the pouring rain (and they did hang out right there in the rain), when you dug your hand under their fur it was warm and dry. The dogs are slender because they're all muscle and don't need to waste a lot of body energy packing on the fat. Siberian Huskies are actually way too large to be sled dogs. They're kind of scruffy-looking but are SO sweet and loving.
In the winter the dogs live in the snow and race. Each racing team has 16 dogs (or they start with 16 dogs--some dogs drop out mid-race due to injury or other problems). During the summer they live in the coastal areas where it's cooler than the high temperatures inland. They still practice racing, but on wheeled sleds that hold 6 tourists and a musher. It kind of looks like a go-cart. In the summer they eat a protein-packed kibble. In the winter that's subsidized by bigass chunks of meat.
Iditarod racing sounds really cool. The dogs are taken care of much better than the humans. Each night the musher must stop at a checkpoint where the dogs are looked over by a vet. The musher must take care of their needs first--laying down straw for their bedding and making sure they're comfortable. There are only a few pieces of required equipment for mushers in the race--one of those being a sort-of camping stove to defrost the frozen chunks of meat that the doggies get to eat. Very little concern is given to what the humans actually eat--haha. The dogs average a speed of about 10 miles per hour but at top speed can get up to 25. Our wheeled sled was going about 10 and we were seriously booking!
And now for the pictures!
Actually, before the pictures *evil laugh* I will explain the last 3 shots, which are of Patsy Ann, the Official Greeter of Juneau, Alaska. Patsy Ann was a bull terrier who lived in Juneau in the 1930s. She was absolutely deaf, but despite that, she always knew when the ships were coming in and where exactly they would dock. She was never wrong. One time a crowd had gathered at a dock and Patsy Ann just looked at them and trotted over to another dock--sure enough, all those silly humans were in the wrong spot. Patsy Ann died in 1942 and a statue was placed in her honor right on the boat docks, still welcoming visitors today.
Okay, on to the pictures. Click here for the slideshow!
Posted by Shelby at
08:05 PM
|
Comments (1)